Doing SEO full time, for years, has taught me many lessons. I've experienced the success and the horror it can bring, but it's still worth it, to me.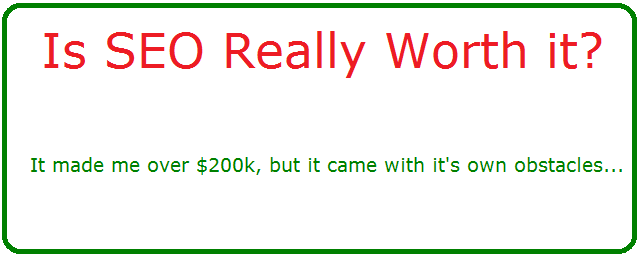 Will that be the case for you? Will you be on the success or failure side?
Well that's dependent upon your ambition to succeed in it and being prepared to face the likelihood that it won't work or produce fast enough results. 
I'm not trying to tell you to not embark on this trip, but I am going to explain that it has it's bumps, big ones at times, that can truly shatter your ambition instantly at times, which happened to me multiple times, and that's on the negative end.
On the positive end though, this business is highly in demand, not just from a point of view of you making websites, getting organic traffic and making good money (which I have also experienced multiple times), but being a valued in demand professional in the field, who clients are ready to pay big money to in order to get their sites and potential businesses to do the same. 
You can make more as a professional or at least intermediately experienced in this field than most major job titles pay in the world, that is NOT a joke.
How much can you make with SEO? These are my real numbers: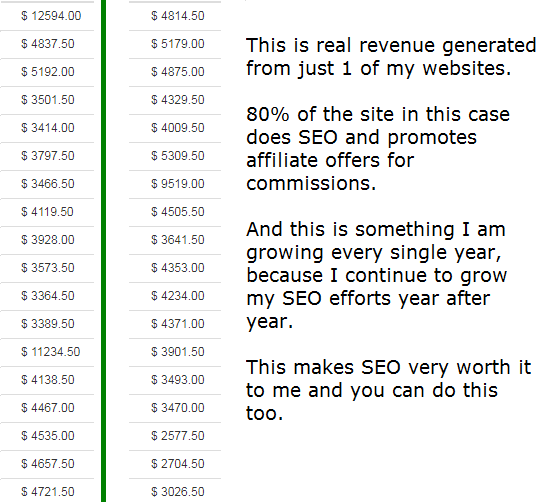 My history with SEO & real stories of failure and success.
While I have made a lot of sites since I started, I don't want to list all of them. Instead, I want to breakdown my history with SEO into 3 phases, each of which started well but ended because the rules changes or I did something I shouldn't have. 
When I would move into the next phase of my experience, I did so knowing what past mistakes NOT to repeat and that actually made the progressing of my phases better and better. 
My first phase of success (and eventual failure):
I began an SEO career writing articles on directories. At the time, writing a short, 300 or more word essay on any topic that had profitability produced me fast, high rankings and sales.
This was a method I milked for about a year, having daily sales that went from $20-$200 at times. And I grossed $10,000's of dollars in the process.
But this eventually died out and the standards rose and neither I nor anyone who used that approach could do it any longer, because this business evolved, a lot.
This meant that I would need to evolve how I did SEO or quit and frankly, this was one of the biggest hits I took. Think about how easy it was to write short little blog posts and get high rankings, and make easy money.
You get used to doing this after awhile and imagine yourself being set for life. But once the hit comes, ALL of that fell apart, those daily profits disappeared.
This would be the first of many hard lessons I was taught about how tough this business because of how it changes (it was the first of many changes I experienced). But whining about it certainly wouldn't pay my bills. If I wanted to continue, I would have to evolve and try harder. 
This led me to create personal websites where the norm for content increased dramatically. From the 300 or so words I was able to get by before, I now had to reach over a 1,000, on every single one. Not only that, but standards rose in more than just word count, I had to create better content, better links and more.
But being that I already tasted the success within this world, I knew it was worth it and so I did meet the standards. And I did see success.
But then another crash happened, Phase 2 (I tried to cheat):
During my second phase of SEO attempts, while I did have some success, I tried to take a shorter path to reaching it, by engaging in very poor backlinking strategies, which in hindsight, I warn people to avoid, due to them being in the red, danger zone. 
But at the time, I didn't know what I know now and in doing what I did, every site that I managed to get successful through crashed. Just as my first stage of SEO crashed, so did this one and in all honesty, it was short lived. I only made a few $100 from this.
The 3rd phase (where I'm at now):
Prelude: Putting in a lot of work during the second phase and then having it ALL be destroyed nearly overnight put me in a bit of a depression. Again, just with the first phase, putting in the work, seeing the results and then having it all go back down to zero can really mess with your mind.
However, being that the second phase failure wasn't the first time I experienced such a thing, I managed to bounce back from it faster, because I knew what I did wrong, and I knew what I had to do in order to fix this and continue.
The only issue was…I had to start over. And that was my biggest struggle to overcome at the time.
Again, I asked myself if SEO was worth it, and then I remembered all the profits I had experienced in the past, the potential I saw and experienced personally. I had an action plan to reach this goal, and I knew that I could no longer cheat my way to success.
If I was going to make my 3rd attempt at succeeding at this work, I would need to truly sit my butt down and work for a long time. And I truly did that.
This hard work and effort was what led to the $200k+ generated.
While my first half year working hard produced little results, thanks to the Google Sandbox, eventually I realized that this is how SEO works and being persistent during that waiting period, I was able to bear fruit in ALL the efforts I put into the new sites I made that truly followed the white hat rules of getting by in this business. 
That occurred in early 2013. And being that 2019 is less than a month away (Update: This article was updated in mid 2019), I'm here to tell you, the rules I've been following for nearly 6 years still stand, have not killed ANY of my sites that I have followed through with this one and there's no sign this will stop. 
While I had to work A LOT harder than I did during the first 2 phases, the end result was what truly made it all worth it.
3 lessons I want you to take from my experience (if this is worth it to you):
1) You will have to write a lot.
Content is king in modern day SEO. If you wish to survive in this world, content creation is what will drive you to success. If you are not a writer and don't enjoy it, you have no business getting into all of this stuff.
You have to consider that the average person may take several hours just to produce just 1 blog post. Then you will have to consider that these efforts will need to be multiplied by 100x at least to get to a point where you can get enough traffic to make enough money to make this a livelihood. 
Promoting local businesses is a little bit different (here is how it works) and does require less work, but I'm personally not a local businessman, I'm a person making his own blog and so are most people, so they will have to aim for that main goal.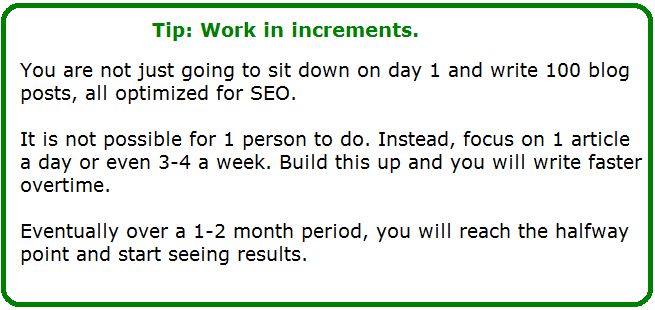 2) You will need patience. 
That Google Sandbox I told you about is a real killer of ambition and one of the reasons people think SEO is dead. Not only do you have to get over the hump of writing a lot, but then waiting for that work to produce results, over a period of months usually can really kill your determination. 
The important thing here is to be aware of this sandbox and know that it WILL affect you no matter who you are and that it's fine to go through it. You just have to keep focusing on the first lesson while you're waiting.
You only need to get through the sandbox period once, then all your future work will be ranked faster.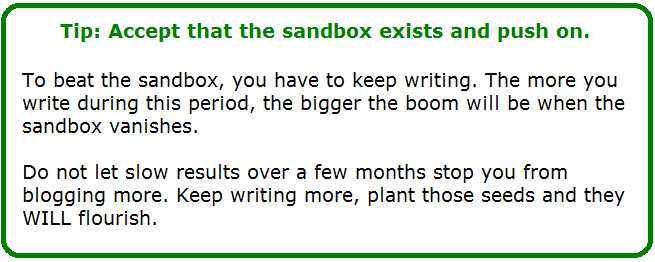 3) Just because you get free traffic doesn't mean it'll get you money.
Once you pass that sandbox hump, you will be very happy to see a spike in traffic, but it won't always mean that you're set and the money will start pouring in.
Out of the few people who actually get to this point in SEO, there's also a minority within this minority who get the profits right away. You have to understand how to get sales from visitors and how to monetize your site and you have to TEST different sales angles and that bears it's own training.

Here's an extra tip that will solve most of these problems…
As you can see there are a lot of obstacles in SEO and while I am hopeful you will see how worth it can really be, there's a lot of expected problems when you begin. And if you expect them, you'll be fine.
That is why I have this following tip to minimize these obstacles for you: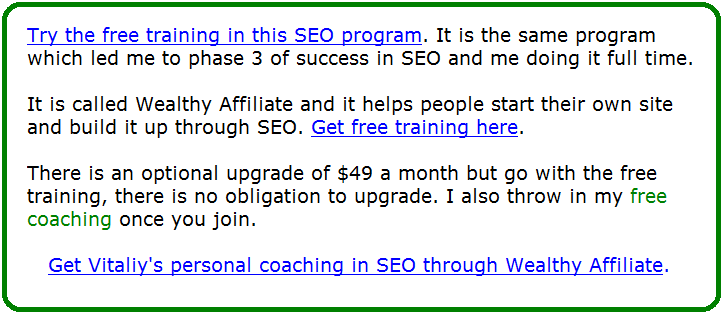 If I haven't scared you away from trying this business, then try that program above and I promise you, with added ambition, you can be where I am in this business.