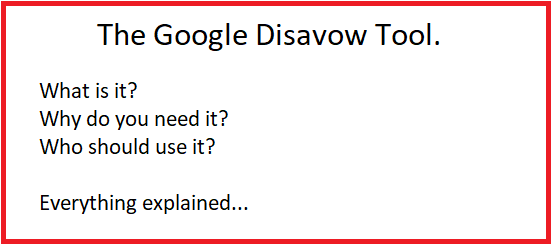 The Google disavow tool was created to combat people trying to send toxic links to other sites to damage their SEO rankings. That is what it is.
And while the very thought of someone trying to sabotage your site with bad links may be on your mind right now, I have to say that not only has this scenario become nearly impossible to happen (if you follow certain rules), but the very tool itself may not even be necessary to have or worry about using.
That's right, an SEO expert just told you not to worry about bad links or using the disavow option. And before you close this page and head over to others which say the complete opposite of what I'm saying, give me a chance to PROVE to you that my position on this tool is the right one.
Read this article first and then tell me I'm wrong.
Why the Google disavow option even exists in the first place:
Backlinking USED to be a very serious and important part of SEO and by used to, I mean MANY years ago. In short…
If you'd get good links coming to your site, you'd get good rankings.

And if you got bad links coming to your site, you'd get a penalty from Google and bad rankings. 
In regards to the bad links, this eventually became a weapon that people used against each other's sites, since they didn't want competition.
And a site which was ranking well, upon receiving an influx of bad links, would have it's SEO crash, very quickly sometimes. This became known as negative SEO. 
Since this became a very widespread problem, Google invented the disavow option which basically allowed any webmaster to fight back against bad backlinks coming into it.
How the disavow tool works:
First, you must examine a list of backlinks coming into your site. There's specific programs for that stuff, including Webmaster tools.
Next, you must distinguish which of those links are toxic and bad.
Then and only then can you take the list of the bad links, put them into this tool and tell Google to disavow them which basically means, ignore them and not let them affect your site's ranking.
Here is a link to the actual page where Google explains how it works and it also warns against using it, because of it's complexities (which basically come down to understanding how to distinguish backlinks from the good and bad ones). Here's what it looks like: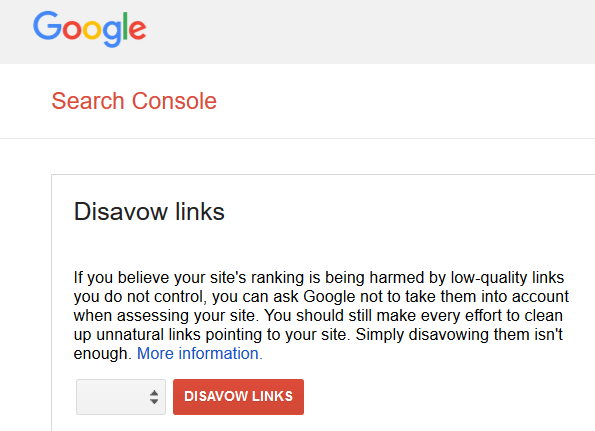 It's a useful option, so why am I telling you not to worry about using it?
Because the period in which this was truly necessary is no longer the problem it once was. Yes, there's still LOTS of people seeking to destroy each other using this method, but…
That actual sabotage method of sending bad links to other sites has itself been disavowed by Google. 
Google was very smart to recognizing the trend years ago when this was a truly serious issue and they took massive steps to update their algorithm to correct this problem and in the process, they basically disavowed ALL backlinks, good and bad in the process, without you having to worry about it.
So what does this mean for good backlinks? Well the actual process has greatly evolved and the value placed in the actual link is now worth 0 in Google's eyes.
Do NOT misinterpret this as meaning backlinks are worthless, they are NOT. Here is how they have evolved and how you SHOULD be using them the right way.
And what does this mean for bad backlinks? Well it now means that no matter how many people, send however many bad backlinks to your site, it will still mean 0 for the SEO impact it has. 

Ok, that's a problem right? Well if you believe in bad backlinks harming your site, then it is. So what do you do if you believe it's a problem?
You'd go through the process and basically tell Google to ignore those 1,000 backlinks.
Now you should be fine, until the same person or someone else comes around and tries to do this whole sabotage thing all over again.
And as long as you keep believing in this being a problem, you're going to have to keep using the disavow option again and again to counter these attacks.
What I'm getting at here is that this process can truly become a loop and no matter how many times you combat it, someone, somewhere will still come around and will still try to negatively hurt your site with this approach.
It just seems like a foolish process where someone innocent has to constantly tell and prove to Google that they are innocent, while the bad guys keep throwing these bad things at them over and over and in my opinion, this system favors the bad guys.
Unless you consider what I just said about the whole evolution of backlinks, in which case, the process flips and the bad guys, no matter how hard they try can't hurt your site with this approach no longer.
If this is true, then why are so many SEO experts saying otherwise? 
I have to say that while looking over this topic on other websites that talk about SEO, most of them have said the complete opposite of what I said here. 
They still believe in backlinks playing a very important role in SEO.

They still believe in people sabotaging competing websites through sending them toxic backlinks.

They still believe a site owner needs to be careful and be ready to use the disavow option and even hire people to do it for them.
My personal opinion on this matter is that many SEO experts are honestly out of touch with the way the model has evolved. 
I truly believe that you are protected from this form of negative SEO thanks to how Google has evolved it's view of it.
As long as you do these following things, you will not even need to worry about the tool:

It is through these 3 specific methods that people get their bad backlinks onto your site and hurt it. Otherwise, if these 3 things are correctly maintained, it doesn't matter if a tsunami of bad backlinks are trying to hurt your site, they will not succeed.
Again, I urge you to read these 2 following articles:
1) This is probably the most important article you'll ever read on backlinks, which proves how Google has basically disavowed both good and bad ones altogether and how you can still get good ones if you know how to identify which are really good.
2) And second, you have to understand that negative SEO has different forms and classifications and each has it's own counter system to stopping. Read this article and you'll understand how your site can truly be harmed by negative SEO and how to reverse it if it ever happens.
What to do after you use the disavow tool:
Generally speaking after using it, your site's rankings should start to climb overtime on it's own. A disavow tool is basically going to clear your site from the bad link/s that were plaguing it, but the recovery time after this happens varies.
To speed it up or optimize it, use these SEO techniques to help that process.