Today I want to share an SEO case study in which I helped a client who runs a local small business (a self defense school) attain tons of new clients.
Basically what I did was, I optimized his website, his ads and gave him a few personal tips, which he used and as a result, many people within his business area were able to find him. 
As a result his business grew substantially and even today, there continues to be a substantial trickle of traffic and new clients coming in because his website's SEO improved, and the business became more exposed to people looking for martial arts training in the area where the school is.
And thanks to him being happy, huge opportunities to work with other clients arose for me too, allowing me options to do SEO work for them.
In this case study, I will detail the exact things I did for this client, as well as offer personal tips you can use for your local business if you're seeking to get online exposure, but in your specific area.
First, let me explain how it all came about…
I started training at this self defense school in 2009. After a few months of being a member there and enjoying the environment and what I was learning, I slowly began to get to know the head owner of it. We had several conversations for a reason I can't remember, the topic of online marketing came up.
Being that I was already experienced and having success in SEO as well as using services like Adwords (Google Ads), I offered to give him a free consultation, which is one of the many great ways to get clients. He agreed, and I asked him for a day or two to take a look at his website (which he already had up for at least a year).
So I looked over his site…
And it didn't take me long to analyze it and see that a number of huge mistakes were being made. In short, he could have been getting way more traffic than he already was.
Without going too in-depth into each problem…
Let me summarize the 3 main issues I saw on his website:
1) For starters, his school taught several different self defense arts, and there was only one page in which ALL of these arts were listed. Keep this in mind because I'll explain how changing this part of the site resulted in his traffic stats increasing by well over 10 times! 
2) Then there was the part where he was advertising his website on Google Ads. Looking over his campaigns, his keywords, his targeting methods and how much he was spending, my hairs stood up, because in just about every single front, he was doing it wrong and overpaying substantially.
He could have been spending 90% less on ads and bringing in 10x more traffic from that as well (in addition to the free traffic from the first point).
3) Third, for one reason or another he had a YouTube video he made that was promoting his small business, which actually accumulated over 100,000 views!
I don't recall how he did it, but the problem here was this video wasn't linking anywhere and this was lost traffic, a lost, quality backlink that he could have been using to grow his website's authority.
I'll leave the other issues out of this case study, because frankly, they mean very little to these 3 and just by correcting the 3 I mentioned, the website grew in both organic and paid traffic by several times, ad costs were cut like crazy and as a result, the website started receiving a lot of traffic, which years later is still coming in at a healthy pace.
Here's what I fixed:
1) For the first problem in which all the self defense arts were listed on one page, I told him to separate them all. In other words, dedicate one self defense art to one page and on it, write extensively on the art, and how his business, in his local area teaches it. The minimum word requirement I set was 400 words or more.
Within each page, I made it clear to provide bold headings of the art and the area it's taught in. Why? Because for SEO, when someone in his area looks up the art, the results provided will be local and thus his page will show up.
This was repeated for every art. Now instead of having 1 page worth of content, he now had 5 or more, each with it's own separate focus, and each ranking on Google for the specific art, in the specific area. Beautiful.
2) Second, I cleaned up his Google Ads by just pausing his entire existing campaign he set up. I didn't erase it because I wanted to show him how my changes would compare to his and then to choose which one he wanted more.
Basically, I targeted VERY specific keywords pertaining to ONLY people looking for self defense training (in his area ONLY) and linked each ad I created to the appropriate page on his website. His costs went down substantially and his clicks rose significantly.
3) And finally, I told him to provide a simple link on YouTube video which got the 100,000 views back to his website. This also improved his SEO. And it was a good backlink.
Overall the results were huge, and it was all done through simple SEO methods that didn't take look to update on his site. He still maintains his superiority over the competition today because of the things that were done YEARS ago.
Important SEO updates since this local case study happened:
Back when I fixed this site, there weren't as many requirements for a local business to succeed in SEO as it is today.
So in this part of the case study, I want to include updates on what the business did (and what you should do as well if you run a local business) to keep growing the site's traffic and success…
Just a quick note…the same changes I made on the site back then, I would still make today and they would still be JUST as important, it's just that a few extra ingredients are needed in local SEO success today to further those results, and here they are:
Citations. 
If you run a local business, an absolute must today is setting up citations. These are networks and sites where your business is mentioned. The most important places I'd start with are: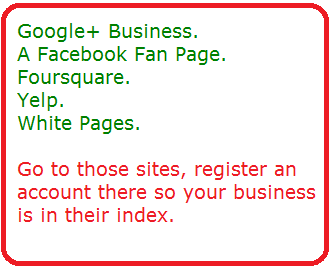 Once you do that, if possible, get existing customers to rate it high your business high (right on all of those sites if possible). Note, there is an update on Google+ you need to read.
This will help it rank better in Google when customers look up your business and/or the subject relating to your business in your area. I would suggest emailing them and asking them to just give your business a rating, then providing a link to the citation site where your business is listed.
The more good reviews you get, the better it looks overall for other customers who would see and consider your business.
If you would like to see/hear about more case studies I've done for clients/myself or have your personal questions on how to recreate this success with your local business, let me know 🙂