There's a rumor and myth in the affiliate marketing world that affiliate links can hurt SEO. Is it true? It can be but if you follow 5 rules, it won't hurt rankings.
But before I get to the 5 specific rules, let me explain:
Why affiliate links

generally

do NOT hurt SEO rankings.
There are 4 reasons why I say this:
1) I'm an affiliate marketer and on many of the sites I do it on, I also do it through SEO. 
2) I have not seen any major decline or Google penalties in my rankings from practicing this.
3) There are endless websites I could cite that prove that statement true, and I will actually point to several in this article to illustrate my point. In fact, I did a post on SEO not being dead and cited 5 websites, all of which have affiliate links on pages which rank high on Google.
4) If this practice did not mix well with SEO, there wouldn't be so many websites practicing it and ranking so high, for so many valuable keywords on Google (many of which are mine), but since they are, that's a myth we can scratch off the list of worries.
While most of these worries are unwarranted, there's more to this…
There's a big reason why in my main statement above, I said generally in yellow.
And this is because there are circumstances within which affiliate URLs will hurt a website's SEO, but it has NOTHING to do with the actual URL or the practice of this business model.
You see, good and bad SEO results are a combination of things.
It's not like one good thing on the site will have it rank high or one bad thing on the same site will cause it to crash, there's a ranking algorithm in the mix here and it takes into considering way more than just 1 thing…
Now while there's 100's of things I could talk about in regards to what goes into ranking algorithms, in my experience, it's not a good idea to start thinking about this stuff so meticulously, because you simply can't do it.
There's just too much stuff to worry about and you'll drive yourself insane overthinking it and from that, you'll never make any headway in SEO, because you'll always be worrying that you're violating something, somewhere on your site. 
That's just bad overall, don't do it…
Here's how you should approach it (The 5 rules):
Whatever question/s you have on SEO, whether it be the topic we're discussing here now, or anything you hear with regards to rumors, what's good or bad for it, just do this:
Run these things through the following 5 rules, and in doing so, you're going to make affiliate marketing via SEO a much simpler process for yourself:

Everything you do to get higher organic rankings needs to start with this rule in mind (and practice). I'm truly serious when I say that you should start with this rule. Its one of the main trends I talked about here.
If this rule is not followed, you can forget high rankings and being a successful affiliate. It won't happen, it can't. 
So let's apply affiliate marketing to this 1st rule:
Let's consider that you're running a review page, and it's getting traffic. Obviously, that review page has referral URLs. It has to.
Will it be penalized?

Will it see high rankings?
Well let's find out:
How many actual promotional links are there on the review page?

Are there a few, are there too many?
I would say if there's too many, such as one on every single sentence you write, you need to reduce that by at least 50%. Why?
Let's go back to the rule and here's how it applies:
Too many would interrupt the reading flow of your visitors, causing them to either leave too early, or get annoyed and leave anyway. And that will negatively affect the ranking of that review.
It only makes sense because Google looks at how users look at your site, the more positive their experience, the more positive they'll see your site.
Now too few is a better option yes, but that would probably hinder sales. So what can you do? Here's my suggestion:

Scarcity with linking and focus on content is better in this case, so make sure you follow rule #2. Now this raises the next very important rule:
If you want to rank your pages with affiliate links high on Google, you can't ONLY have those kinds of URLs on those pages, there needs to be more diversity…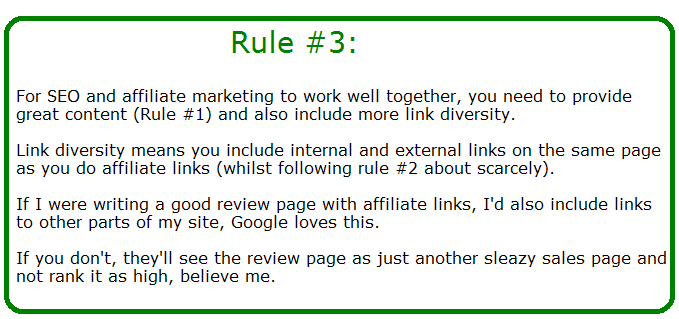 Internal linking on your site is 100% guaranteed to help SEO, and I have truly noticed that there is strong evidence to this:
For one of my websites, which features a lot of review pages and promotional URLs on it, when I diversify it and include more internal ones within the same reviews, it ranks better. 
For pages which do not diversify, they hardly ever rank well.
The big reason for this is again, back to rule #1. If all you're doing is trying to send people to a product page to sell them something, your review page's value is not considered high.
If you're providing a good review and pointing people to more than just the sales page (your referral URL), it shows you seek to help people and raises the review page's value. 

Out of the 5 rules, this is actually optional, but if you're trying to rank a review page with affiliate links and there's a lot of competition, applying this rule may give you the edge (well it actually will). 
I have noticed that some of the top review sites I find on Google that consistently rank on the first page have at least these 4 rules in place. This leads me to talk about one of the sites I actively follow:
That is a review site (here it is) that literally does nothing but provides reviews for programs and pretty much every single page that site has, also has affiliate links.
Now this is one of the most extreme examples I could find where the person engages in some truly aggressive affiliate work and yet has their site rank VERY high for the search terms of products he's reviewing.
While his approach to selling just about every program he reviews isn't something I agree with, the lesson here is that you can pretty safety practice promoting things on your site without fear of Google striking it down. 
Now that site from my analysis gets high rankings because:
The person provides a good quality review, and that basically nails down rule #1 I mentioned.
He does scarcely point to his promotions within each review, which covers rule #2. 
And he also does point people to other blog posts he has on just about every review (which also covers rule #2).
He also makes his own YouTube videos, which themselves also hold great value, which is rule #1 and it is on his review pages and the actual YouTube video, in the description points to his review, which adds link juice to the page and helps it rank better.
So rule #4 is covered here as well and by the way, this practice is also a great way to get backlinks.
But there are also 3 additional things he does:
1) He reviews the product WAY before it's release, which at the time has no keyword competition, so he can easily hit the first page without much effort. 
2) His site is pretty developed and has long since passed the sandbox stage, which means it ranks high, pretty quickly.
3) Within each review, what he also does is, he inputs the keyword he is targeting to rank for within the images he provides. This improves his ranking as well (read my 10 tips to make sure you're doing all this stuff too).
Don't worry about all the details, focus on this:
Like I said before, rather than over analyze every little thing he's doing, my main point with this person's site is to show that its totally possible, and safe to practice affiliate marketing and still keep high SEO rankings.  

Essentially when someone prioritizes selling over helping, they are violating rule #1, which time and time again, throughout this post, I've said is the MOST important rule you cannot break. 
Start trying to sell people stuff and you will naturally reduce the value of the content of your review.

That will affect how the people who seek to get info from that review read it, and it will affect it negatively.

And in the process you will get lower rankings. But it won't be because of affiliate links, it'll be because you violated the rule, just know that! 
I hope these 5 rules helped answer your questions 🙂