Social media can totally be used to help your SEO, but it's not just about getting likes or shares. There's a correct way to use these places and I'll show you how.
If you have a website that's not doing too well in the SERPS and you have or use one of the many social media outlets available (Facebook, Instagram, Twitter, LinkedIn, ect…), odds are you've probably wondered if you can somehow leverage these places to boost your site's SEO status.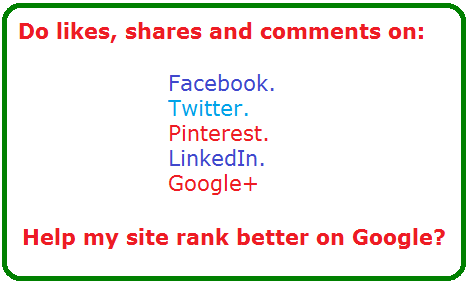 You may have probably thought and asked these types of questions:
Can Facebook likes lead to better rankings for my website on Google?

Can people sharing my page on their social media accounts also boost rankings?

Can Instagram likes, comments, shares also do this?

Can people tweeting about my website help it rank better? 

Does sharing my content on Google+ help it's ranking on Google itself?
As an SEO expert who HAS used social media to try and boost his website's ranking/s, I can tell you the answer is YES, it's possible. But at the same time, the answer can also be NO, and that happens when people don't properly understand how to use these outlets.
But don't worry, after you read this article, you will have a good grasp of how to properly use social media and it will positively affect your website's SEO, I promise 🙂
I do also want to say that there's direct things you could be doing on your website to help it's SEO and here are the best tips. If you don't have any strong social media followings, then these ranking tips will help a lot more.
So to begin, here's what you need to understand:
Social media websites and places like Google which rank websites are entirely different entities. Just because your website gets acclaim on for example Facebook (and likes) does not mean that it will suddenly start to get acclaim on Google as well.
For example:
A few years ago, when my SEO game was still developing, I had more than a few articles that I wrote with the intent to rank high in search engines, not do well enough, but somehow they became viral on Facebook.
Someone saw it, shared it, and then it just blew up from there. Yet despite getting 100's of likes on Facebook, the ranking of those articles did not rise in Google. 
Conversely, if you have a website that ranks well on Google and has it's SEO game intact, will not mean that it'll be acclaimed on social media.
For example:
I've had tons of articles rank on the 1st page and even the first spot on the first page of Google, and at the same time not even get a single like on social media, not on Facebook, not on Twitter, not on Google+, nowhere. 
So what gives? 
Well what determines if one will affect the other is the enthusiasm of the audience that sees your content and decides if they wish to share or like it. It's their action that will ultimately determine whether or not your website's SEO ranking will improve or not and I'll explain this in great detail, as I know how confusing this may sound right now.
What I mean is this:
Social media audiences & search engine audiences have different mindsets…
Generally speaking, the social media audience is not looking for any answers to questions. They are just looking to communicate with one another and just socialize basically (even if it is an argument). The only way there is an exception with this audience is if they are following you or your site personally on social media.
Whereas again, generally speaking, the search engine audience different. They visit Google.com with the intent to find something. It could be a product, it could be a question, but the intent is entirely different. 
When was the last time you used, say Facebook to ask a question on a health problem you had? Probably never.
Odds are, you visited Google and typed that question in and that's because you know Google will provide you with the best results to answer that question.
When I do SEO, I am always writing content and looking to get this search engine audience to my site first, because I know they are more open to reading my content than the social media audience.
Then I will share that content on social media with the right audiences who are more open to taking the types of actions that will send positive SEO signals to Google that my content is worth boosting in the SERPS.
Now I did just summarize a lot but I will explain everything right now, so don't worry if this didn't make sense…
The core thing you need to understand…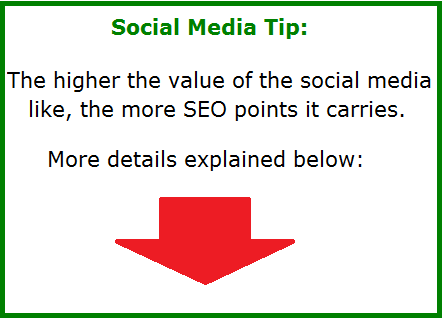 Every like, share and comment you get across ALL social media platforms carries it's own level of value for SEO and we'll just divide it up into 3 categories of points:
No points

.

A few points

.

And finally a lot of points

.
And this is all in regards to SEO. 
Depending on the type of like, comment or share you get from an individual or many people on these platforms will determine if those things translate into more points and better SERP results for your site on Google.
Think of a "thank you!" which is authentic vs a "thank you" which is empty. 
You know the difference between both and that's how you need to look at this subject too. These likes absolutely carry value and you are about to see exactly why.
Here is what I mean:
You buy likes from a company. Yes these things sell because people want to give off artificial value to others, but there's people who seek to improve their SEO game by buying likes and then thinking more likes = better SEO.
The answer is that no SEO points will be awarded because those likes are empty. If they are even made by real people, those people do nothing but click a like button and that doesn't translate into anything that helps your site.
Those people don't actually visit or stay on your site, they don't read your content, they don't comment on it, they don't share it. Those lack of actions, to Google indicate that the like is an empty like and thus there's no SEO value in it.
Another example is when you share your content with friends and family and perhaps get a few likes, but it's more of  "pity like" where the people don't really care about your site or it's content, they just like it for the sake of it, but that empty like means no SEO points are given, thus you won't see any positive improvement in rankings from that alone.
You share your content on social media with a small audience who knows you and values your content. Perhaps you have people follow you on social media because you offer good advice and they just decide to befriend you on Facebook of Instagram and once you share content there, they put a like, but in addition…
They also comment on it, they click through to the site, they read it for a few minutes and they even share it with other people.
Those actions that those people take show Google (and yes Google does have mechanisms to observe this) that you are providing content that people like and this WILL give you SEO points. These are also good backlinks.
In this example, you basically have to take the previous example and just multiply it many times. Imagine an icon, a brand name, a popular person who runs a Facebook Fan page or even a personal one who is followed by many people, who when he tweets, shares something on Facebook, on Instagram, Google+, Pinterest, whatever platform they choose, they get instant attention.
People flock to comment, like (or show anger) to the thing that was posted. 
Now I would imagine that most of you aren't in any of these fields, and that's OK, because neither am I, but if you want to maximize your social media impact on your site's SEO, you need to start thinking about becoming someone who people want to listen to and follow.
In my case, about a year ago, I started a fan page for one of my websites which has slowly grown since. I didn't invite any friends or family to that page because I don't need pity likes. I instead collected an email list from my website and sent those prospects who knew me to the Fan Page and asked them to like it.
Thus when I post content on my site, with the intent to rank high in Google, I share that with my audience on that fan page and because they know me, I get likes in the yellow category (some weight). Now if the fan page grows, it can move into the green category and get bigger SEO points, but it's a process and it takes a lot of time to get to.
This is how you should think about the social media game if you want it to help improve your SEO status. It doesn't matter if it's Twitter, Google+ or whatever other media you can imagine, they all carry their own form of likes and those likes each carry their own value, which you can distinguish with the 3 categories I just listed.
So remember…
It's not the social media likes which help boost a site's SEO status, it's the value within those likes and what people do AFTER the actual like which counts.
3 ways to use this info I just gave you:
1) If you are running a business and have an online presence, sign up with places like Facebook, Google+, Google+ business and ask your clients/customers to like, and more importantly COMMENT on how they like your business. These comments will be what adds SEO value to the business and helps it rank higher.
2) If you run a blog and wish to leverage this info, focus your blog writing on talking about serious, controversial subjects as those generally attract audiences that are more passionate about commenting and sharing your content.
They are also more likely to share that content with people on social media who are like minded and will also give you "value likes". 
3) If you run a blog or business that helps people with problems, start a fan page and ask your website visitors to like your page on those social networks. Then share your content on those social networks each time your site releases new content to get those audiences interested.
These 3 tips will at least make sure you are attracting value likes to your site and at the very least giving it SOME sort of SEO value (yellow and green categories).
There is 1 final tip you need to read on this subject:
DO NOT fret or worry if you are not getting much attention or value likes on social media, especially if you are already building a website, an online business or even a blog business whose focus is SEO and high rankings on Google.
You can absolutely achieve high rankings WITHOUT having a social media presence. I have known many successful people who run successful sites, got and get plenty of search engine traffic and have next to NO social media presence. It's OK and quite honestly a VERY small and optional piece of the things needed to be a success in SEO, trust me.
That is all on this subject 🙂