The meta description is simple to understand. It's the first paragraph of content you have on any of your pages or posts in your WordPress site (or any other platform).
It's also that which gets shown on Google. That's what it is.
An example:
When this page for example inevitably gets ranked on Google, the very first paragraph I just wrote above will be what Google shows. That'll be the meta description.
Here's another example:
Here is an article I wrote on another site I'm doing SEO on. Notice how the first paragraph is exactly copied and shown on Google when my page shows up, this is the meta description in action: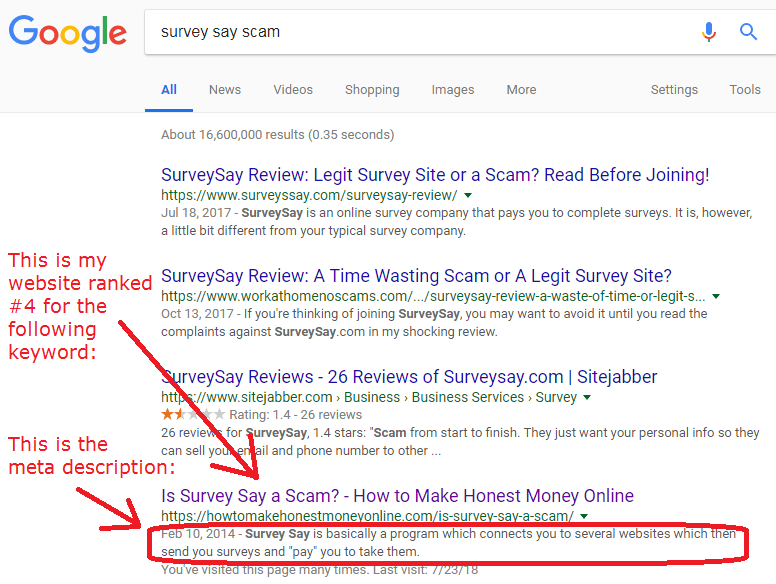 Now as easy as it is to understand what the meta description is, it's a whole other story if you want to use it correctly, for say, SEO, because if you do (and I would hope you do to get more traffic), there's smart ways to do it and don't worry, it doesn't really require a lot of knowledge, but I do find most people just don't know about this stuff or if they do, they don't do it correctly, so let's make sure you're doing this right:
Here's 3 simple tips to maximize your meta description for SEO:
1) Start with the meta title. Use a low competition keyword.
Before you even get to writing your first paragraph, which you already know is the meta description, you have to start with a title.
Generally, my advice as an SEO expert is to try and find and then use a low competition keyword, within your title. I have some personal tips on doing this correctly which I've written about here. If you have problems coming up with titles, that article will help you a lot.
If you are having a hard time finding low competition keywords, there's 2 great, beginner friendly, free tools you can use in order to find them quickly:
First is the "Keywords Everywhere" tool. It's a little annoying to install, but once you do, it's easy to use:

Second is Jaaxy, which is free to try (costs later to use, but is worth it) with and later on more usable than Keywords Everywhere:

Either way, with these 2 options, you will have immediate competition and traffic numbers given to you so you can intelligently pick out which keyword is better to target in your title and content. 
One more thing I want to say is that the title should be under 60 characters. I have recently noticed a trend where titles under that range get better rankings. 
2) With a keyword used in the title, use it again in the meta description. 
Your first paragraph should absolutely include your keyword as it did in the title, once.
What will happen is that when this gets picked up by Google (how to speed up the indexing process) and people see it, the keyword they look for (which is what you are already using), it will be bold in the title AND in the snippet it shows. 
That bold appearance is easier to see and increase click through ratings. This leads to more visits and better rankings. So absolutely make sure you follow this step. 
Here's an example of how important this is:

3) Try to keep the paragraph short.
2-3 short sentences should be more than enough. If you wish to write more, let that be in the next paragraph or further down. What this does is it makes your article more marketable when people see it on Google.
If they see a short paragraph and a good title, they are more likely to click it (the sight of a clear, short answer is more attractive to them). 
As an example, consider my title in this particular article. I asked a question, correct? Well what did I do in the first paragraph?
I immediately answered that question, and followed it up with examples, to keep the reader, reading. Try to use this too.
This type of strategy will ensure that you will not only get people to click and read your article, but that they will want to continue reading it and for SEO, that is an imperative thing to have. In fact, I use these same tips not just for the first paragraph but also for much of the content I produce. It's a great SEO optimization tip (here are others).
These are all little, yet useful rankings tips I've picked up, that work and you are more than welcome to use them too 🙂
And that's really it. This is exactly what I do as an SEO guy to make sure I'm utilizing the meta description to it's full potential and as you can see, it's truly simple.
Now here's a question that comes up very often:
There's many people, that run WordPress websites who install SEO plugins such as Yoast or the All in One tool. What these tools do is they add layers of add on features to every single post and page you create and they include boxes where you can actually enter a separate meta title and description. 
Here is an example: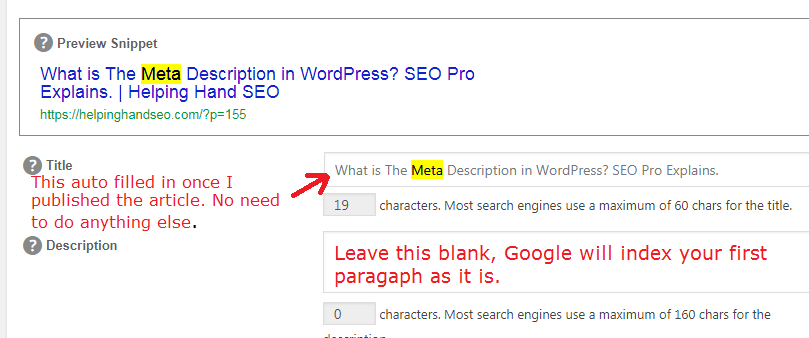 Now the question I most often get asked (and it was a question I once had too), was if it's really necessary to fill those boxes in. The short answer is no, it isn't necessary, meaning you can literally ignore it and leave it blank.
If you need a good reasoning for why, then I have an entire article I wrote regarding that where I basically point out that filling those boxes in has very little to no impact on your rankings in Google and other search engines, and that's because Google is already looking at your actual title and the first paragraph itself within the actual article, not what you put into those boxes. 
It'll get ranked regardless, whether or not you input something into those boxes or not, and being that I've done well without filling those boxes in, I say, don't even worry about it. 
And furthermore, in that same article, I not only cite my own sources, but other experts who basically say and practice the same thing (and they know more than I do).
So all this being said, you now know not just what a meta description is, how it's used in WordPress sites, but also how to maximally leverage it. Enjoy!