Setting up a sitemap for your page and then letting Google know about it can absolutely help it's SEO improve, but there's a few factors you need to keep in mind.
One of them is how to actually do it, where to put it up and finally what to do on your page itself to help all of this stuff prosper. All of that will be covered right here to make sure you get better rankings 🙂
Let me just quickly clarify what sitemaps are in case you're new to this:
What is a sitemap in general?
It's basically an index of all the pages on your website. Think of any book you've ever read and in the back of it, there's an index of every single page and topic referenced. That's a good way of looking at it.
Here is an example of what it looks like if you use this page:
What is a Google sitemap?
Once you create a sitemap on your website, you can then submit it to Google through it's free program known as Webmaster Tools. This gives Google a much more thorough look of your page as whole, allows it to examine it better and this leads to better rankings and since Webmaster Tools was created by Google and is one of the most important SEO tools I've ever recommended, you need to have it. 
Here is an example of what it looks like when you successfully submit it to Webmaster tools:
If any of these images look complicated, I have a tutorial on this article (and video instructions) that'll take you through the process. 
Note: Bing also has a Webmaster program and you can submit your page there too. But Google's is more important to keep in mind because through this one, you'll get more traffic. Never the less once you get it going through Google, I would recommend hopping over to Bing and doing it there too (the process is nearly identical there too).
How do sitemaps help with SEO?
As I just mentioned, having this set up and properly registered on Google through it's Webmaster Tools, your page gets a much more detailed look at from Google. You're basically helping them analyze your page better and thus grade it, as well as give it improvement tips. 
Think of yourself submitting a report to a boss. The more organized it is, the better feedback you'll get from the boss and the better your results will be.
Well in this analogy, Google is the boss and the organized report IS the Sitemap you're submitting to it. 
What may happen to your SEO results if you don't do this:
It's not a catastrophe if you don't do this, but do note that without submitting this stuff to Google, it is left trying to figure out your page on it's own, which it actually will, but the problem is that the figuring out stage will take WAY longer to do. It's just a lot easier for bother parties (you and Google) to set all of this up on Webmaster Tools and the good news is that it's free, fast and you don't really have to do this more than once 🙂
Furthermore, this program also indexes and ranks your content faster than if you were to go without it. 
For example:
If I have a new page, and I don't don't make a sitemap or use Google's webmaster tools, what'll happen is that eventually Google WILL find the page, will index it and the ranking growth will start from there, but the time it takes to reach that initial point can be weeks if not longer.
So without setting up a sitemap and then registering it on Google Webmaster Tools, you are basically slowing down your ranking and SEO process by a very long time whereas if you didn't make this mistake, set it up correctly and fast, then registered the page with Google, and then submitted a sitemap, you'd be getting indexing and rankings way faster.
So on the question of how sitemaps specifically affect SEO, the answer is…
You get direct connection with Google if you set it up through them.

You get a more thorough look at your page from them.

And you get faster indexing and ranking because you connected with them through Webmaster Tools. 
So now the question is, how do you start? Here's step 1…
First you actually need to create a sitemap before you submit it. In order to do that, you first need to identify what platform your website is using…
I'm using WordPress for example as are most people. If this is your situation, simply head over to your dashboard, plugins, and add a new one called "XML Sitemaps", the creator of that plugin is called "Arne Brachhold. Install that and activate it.
Once you do, it'll create a sitemap for you. To get it, head over to the dashboard area in settings (you'll find it there), the link, which will look something like this:

If you don't use WordPress, instead use this free program. 
Whichever method you choose, just know, the goal here is to actually make it. Then once you do, the next step is… 
Step 2: Submitting it to Google Webmaster Tools.
Head over to Webmaster Tools. 
By this time I hope you at least registered and verified your site there. If not, read this tutorial on how, then come back to this page.
Head over to your website that's in Webmaster Tools, click it, then scroll to where it says "Site maps".
Click it, then add the URL I mentioned above. Here is a video tutorial on how it should look and how to set it all up:
Once it's submitted, you're good to go. 
Remember, all that you're doing here is generating an "official" sitemap page (a new page) on your website through the tools I showed you, then you're just telling Google about it by submitting it in their webmaster tools program.
In the end, after it's all generated and you're in Webmaster Tools ready to submit it, all you're really entering is: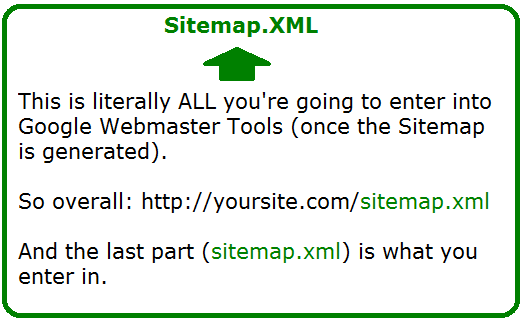 It may be a confusing thing for first time users, but it takes less than a minute once you get used to it. And this whole process is EXTREMELY helpful to aid your SEO results in improving, believe me.
Step 3: What's next?
Well once you submit it, you're pretty much good to go. Google will now look at your site more closely each time you publish new content and it'll expedite that SEO process faster. But on another note, don't let this make you lazy and stop growing your page. No you should be doing the opposite! 
Now that it's submitted to and recognized by Google, your job should be to write more and more content, publish new page/s every single chance you get. That content will get picked up faster through Google and will help your SEO improve.
Remember, by adding new content, it gets picked up faster (crawling) since your sitemap will update that and let Google know about it. This will allow everything on your website and it's SEO to grow and flow faster than before. That is the end goal of this whole tutorial. 
Again do not make the mistake of thinking that just because you have Webmaster Tools installed and your page registered on it, that it'll flow from there, it's only a small part of the process, you need to keep working on and growing your page, and here are ways to do this correctly for better rankings.