Comments, shares and likes, in that order. That's what I've come to learn regarding SEO and how it improves when you have those 3 social signals happening on your website.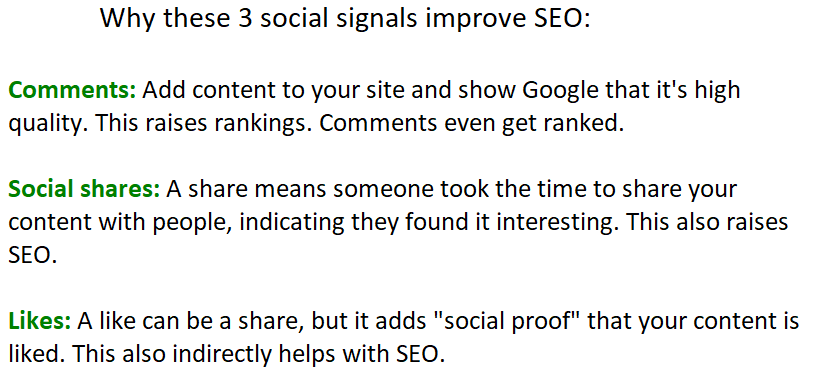 A big part of SEO these days is search engines seeing if your website gets a positive response from readers. How does a search engine which uses spiders, bots (non human) and complex algorithms know if you have a high value website? 
Well one of the ways they do is they analyze certain social signals that occur when there are visitors on your site. I've said this before on previous posts I've done, but basically to repeat…
Google has tracking metrics in which is analyzes how a visitor views your site. It records how long they stay, bounce rates, exit rates and other investigative like metrics which produce a score for your site, that score being how high quality it is, in it's content and overall affect on readers.
Note: Those things on their own can actually viewed as their own, separate social signals too.
And if you need proof that all this complex stuff is being recorded by Google, all you need to do is install Google Analytics, and it'll tell you this same information I just explained.
How does it collect all of that? Well that's Google for you and the point is that…they know.
Well, in it's ideal form, the big 3 I stated can do the following:
1) Comments on the site signal to Google that your site is getting worthy enough attention from readers.
A site without comments is valued less than one with them. It's a VERY important ranking factor.
Comments are also considered to be content and if you know anything about SEO, you'll know that content on a website is what produces rankings, authority and growth or organic rankings. This means…
More comments equates to more SEO authority.
2) Shares are also a huge thing.
If you can produce content that not only gets people to read it, but share it, that's also a huge thing for Google. When they see sharing going on, they see content that is more popular and that means it's much more worth to rank that type of content higher.
Think about a popular individual vs one who isn't. Generally speaking, the popular individual is the one who gets taken more seriously while the other, who is unknown is not. You can absolutely think of websites with shares to be the same thing.
3) Likes are also another form of social signals.
The very fact that someone who visits your site, clicks that like button is a big deal to Google. It's also a form of authority, in that if someone visits your page and sees that a particular article has a lot of likes, they are more likely to read that article because it has public appraise. 
In short, having all 3 of these things going on within your website show both people visiting it and search engines analyzing it that your website is a valuable website.
How do you increase the odds that these 3 things go on?
There's a few simple tips:
Make sure the comment box on your website is easy to leave comments within. Some pages make it tough or they have some sort of filter (capcha) going on where people need to fill out a whole bunch of stuff to post the comment. 
Don't make it hard for them to do. The only thing is, keep an anti spam filter on your website so not everyone can just leave whatever, otherwise your website can fall prey to spam and malware infections and see a drop in it's rankings (negative SEO).
Add like and share buttons on the site itself. There's simple plugins such as "social plug" that you can add for free to your website that show social network buttons on every article you put up, making it easy for someone reading and visiting it to click that like button and share it with their network of friends. 
That's basically it.
The other part (the hard part) is incentivizing people to actually engage in comment on your content. That is determined by what kind of content you write and it's a topic I'll cover later.
The final thing…there's levels to these 3 things.
Despite the fact that these 3 social signals have positive influence on SEO, they don't always have the same value.
For example…
-Why should a comment that is only 5 words get more value than one that is 100? 
-Why should a 1,000 likes that don't lead to anything positive (no shares, no reads, no engagement) have value over 10 likes that generate comments and shares of their own? 
-Why should a 100 shares that also don't lead to any engagement have any value either? 
These examples I just gave basically showcase how social signals themselves have layers to them and the better the quality of the comment, the share, the like, the more SEO value it will carry.
It's a very good thing that this exists because if all these things didn't have their own level/rating, people would abuse them. This actually did happen. Here's an example:
People purchased comments.

People purchased tons of likes.

People purchased and asked others to share.
This often caused bad sites that faked it to make high SEO rankings and that wasn't fair. Luckily, with the advancement of Google and it's algorithms, the value of each of those things made trying to fake it, useless.
This means for example that:
A person who buys 10,000 likes from any service or source (they are scams, don't buy that stuff), but gets nothing out of them (meaning no comments or reader engagement) may as well have 0 value out of it. They don't mean anything! Also this brings up the question of backlinks. Here's all you need to know about backlinks.
I have a whole article on likes, shares and the other things here. It'll help you understand the different levels and structure your content so that you get the high value social signals, not the cheap, fake and useless ones.