Have you ever had to do a 301 redirect and wondered if it'll hurt your page and website's SEO? Well I'm here to tell you it may. Read this post to learn more.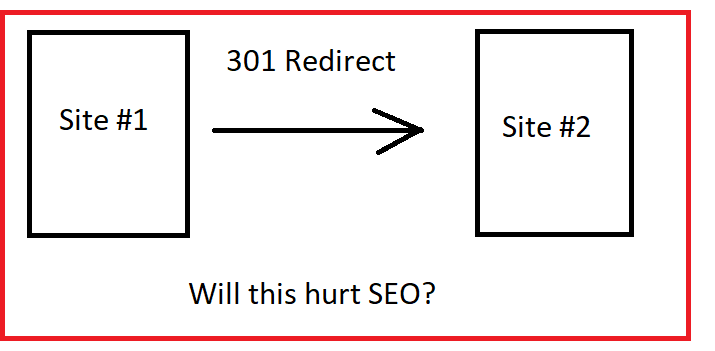 There are usually 4 circumstances for which you need to use 301 redirects for. For 2 of them, you will never have SEO issues, but for the other 2, you may.
As an SEO expert who has experienced or known people who have experienced these 4 issues, I can tell you about the effect it can have on rankings.
So whatever your current site's situation is which requires the 301 fix (or doesn't), align them with one of the 4 circumstances I'll be talking about in detail (which best fits your site's situation) and you'll have your answer on whether or not it'll hurt your SEO or not…
The 2 scenarios where they are

ok

for your SEO:
1) Moving page links from one site to another.
People switch their domain names very often and have to move content (pages and blog posts) from the old site to the new one. They'll erase the pages and posts from the old site and put them up on the new site.
However, if the old site was up for quite a bit, it will still have rankings that Google recorded and will still show to people, meaning that your old site, will still get traffic and that traffic will now see 404 errors. 
However, if you set that same old site up with 301 redirects, then all that traffic that was coming into the old site from Google will now be redirected to the new one and eventually the rankings will adjust to show your new site on Google.
In this case, you can set up an infinite amount of 301's if necessary, it only makes sense and Google is fine with it. Don't worry.
Here's an example (Video with article link):

2) You have a site which itself has broken links.
Your site NEEDS to have a good linking resume with Google and what that means is that it should have these things set up properly:
-The site needs to have a healthy amount of internal linking (from one part of your site to another part of your site) and every page you link to internally should load up just fine (no 404's).
-It needs to have a healthy amount of external links to websites you link outward to and these links should themselves also load fine (again, no 404 issues).
These things are generally good for SEO (as are these additional 8 tips). But very often, people who are new to building sites screw this up. They incorrectly place URLs across their site and very often link to pages that don't exist.
This creates 404 errors across the site, Google takes note and reduces the site's rank (because there's no sense in ranking pages that are error pages).
In this case, 301 fixes are also good to use to correct all the 404 errors that can arise within the site.
For these situations, you should use 404 link checkers like this, get the list of the errors, and then set up a 301 redirect plugin to fix the issues. Here is an example:
The next 2 scenarios (where 301 redirects are

bad

for SEO):
3) You set up too many of them when all you need is one.
This was actually explained by Matt Cutts (the man in the first video above) but basically if you're trying to link from one site to another, and instead of it being done in 1 simple link process, that it's done in several amounts, than the Google bot, which crawls content and follows links, will eventually "give up" with all the redirects.
Imagine sites A and B and only having to click on one link in A to get to B. 
Then imagine the same sites, A and B, but 5 or more redirects taking place before a person can go from A to B. The Google bot will see this and not like it.
What'll end up happening is that it may not even reach site B and rank it as a result, so you only want the 301 fix to take place once per link, for each circumstance. The ease for someone to reach site B, from site A should literally be 1 click, 1 link and that's it.
Make the ability for people to get to the right site, quick and happen the first time.
4) You just have way too many of them happening throughout your site.
This is actually my personal speculation on the matter and there's logical sense in this affecting your SEO, but I suspect if a site has more broken links and 301's happening than it has fully workable links, that it can slow down the progression of it's rankings.
The reason I say this is because in my personal opinion of how Google does things, they like to see solid websites where links go to where they are supposed to and the pages load up perfectly fine. 
If there's too many cases of broken links (situation 2) or there's too many cases of redirects happening, it MAY (this is my opinion) give Google the impression that you either don't know how to link properly, or perhaps there's some flaky linking practices going on (even if the redirect works).
This may not cause negative rankings, but it may cause a lag in them rising in my opinion. Of course if your site is riddled with 404's, it's better to have a ton of 301's around to fix them, than to keep the 404's around, because if you don't, you will absolutely lose your rankings, but at least by fixing them, you ensure that doesn't happen.
But I personally try to stay away from this scenario ever taking place by only linking my sites internally and externally, correctly the first time, so none of these 404's or 301's ever happen or need to get fixed if they do and this is what I would suggest to you as well.
The fact of the matter is that broken links can and WILL occur on your site, even if you think you are doing things correctly. My Webmaster Tools account occasionally shows broken links on my site that in most cases, I swear, I do not have, but some reason, the Google bot is spotting a link that doesn't exist on my site and it's triggering a 404 error.
This is just something I've come to expect, so my position on the matter is to keep the 404's as little as possible (Under 1% ideally) as well as the 301's to a minimum as well (also under 1%). If any 404's show up, I will set up the fix. 
Update: Yes I was right, there is some negative effect:
After finishing this article and hopping over to YouTube, the good old cookies and algorithm from that site saw I was interested in this topic and gave me a few related videos, one of which actually proved my theory on the 4th scenario indeed playing a negative SEO role, here it is:
Now they are talking about page rank here, which is a concept no longer used, but you can apply the overall "resume" of a website in Google's eyes instead of page rank and assume, that the more 301 redirects it has, the less value it has in Google's eyes.
This may not be detrimental in small proportions (and it shouldn't be) but in mass proportions, it can start to play a role.
In most cases, you only need to worry about the first 3 situations.
The first 2 scenarios are the most likeliest in which this fix is necessary and in those circumstances, there's no limit to how many of these fixes you can have. Google recommends it and the first video says there's no limit.
It's just when you begin over redirecting between just 2 URLs, which only require just doing it once, that the 301 redirect starts to cause an SEO problem.
And in the final scenario (which is again, my opinion), I would avoid it by simply making sure your external and internal linking practices are done right the first time. 
This pretty much solidifies the topic of 301 fixes and their SEO impact. So as I said earlier, if your current site is in need of them, at least now, you can see that in most cases, you can safely practice this fix without worrying about rankings being affected.